A month-long Tera and PUBG crossover event has been announced for Tera on PC, PS4, and Xbox One. During the event, you'll be able to earn and unlock exclusive themed costumes and pets as well as getting daily login bonuses for the entire duration of the event. Of course, the sick rewards aren't the only things you'll find in Tera during the event. Tera players can look forward to dropping in and engaging PUBG-style BAMs. What that looks like beyond this one BAM, well we'll just have to wait and see.
Decorative jeeps and planes will be littered around Highwatch and players will need to keep their eyes open for PUBG-themed consumables and air drops. While there will be things to grab and BAMs to take down the event is being labeled as a dungeon event so expect to do some dungeon diving too.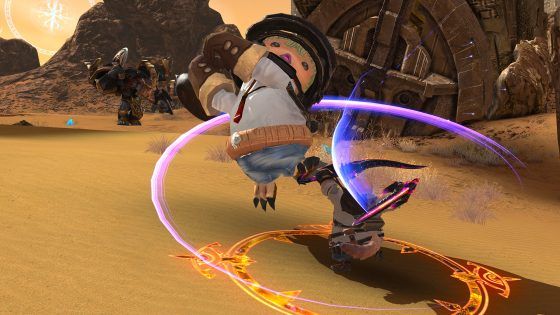 So if you need to gear up your Popori with a welder's mask and a frying pan (and let's be honest, everyone needs a frying pan) be sure to log in to Tera every day starting on March 5th.
Sadly for PUBG players, there isn't a crossover event with TERA yet but I think it's safe to say we all hope to get some of those amazing Castanic looks in PUBG. Or maybe that's just me. If one does get announced we'll be sure to update this post.
Crossover events like these are pretty common for studios with multiple online titles like Bluehole who run both Tera and PUBG. They're fun, though a little bit immersion breaking at times. Of course, that isn't a problem for Tera who already has things like comical little police cars and Hello Kitty items.
If you want more information about the Tera and PUBG crossover event check out the trailer below and the announcement on the official site.
[youtube https://www.youtube.com/watch?v=FGESkJZkxWw]
Source: Press Release
The post Tera and PUBG Crossover Event Announced appeared first on MMOGames.com.