Have you ever wondered if you've killed a streamer or been killed by one? PUBG Report, a newly released app will do just that. But there are a few catches. First of all the app currently only works for PC players. The other problem is that it can only look at matches that happened in the last 14 days. The developer of the app has said they plan on expanding the app to include console data very soon. Sadly, because the PUBG API only stores data for 14 days that is a limit they won't be able to overcome. They also plan to support Mixer as well as Twitch. Plus highlight clips will be added soon that feature interesting achievements like the longest kill caught on stream.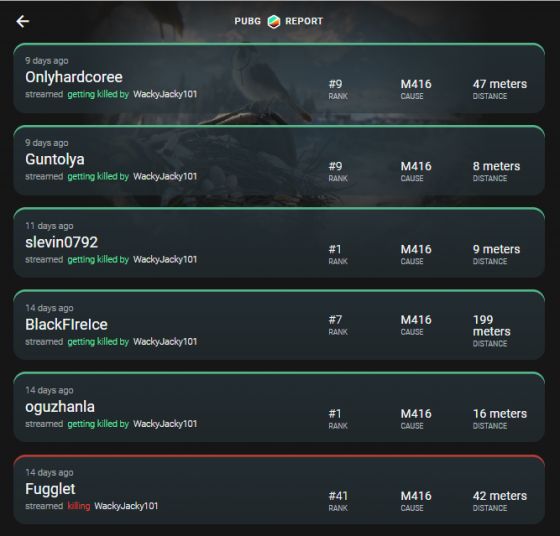 It's incredibly easy to use, all you have to do is put your in-game name into the app and if you've been killed by a streamer, or killed one in the last 14 days it will appear in a list. You can then click on a match and it will take you to the Twitch stream where the death occurred so you can watch the moment when it happened. That's easily the coolest feature of the app.
If you do end up getting a result in the app be sure to save the clip. It won't be easy to find anymore once those 14 days have elapsed and the kill doesn't appear in the app anymore.
PUBG Report is just one of the many apps that have been created to support the game. Others will allow you to look at various stats, including one called PUBG Win Counter that has been created specifically with streamers in mind, allowing them to display how many times they've won, made kills, or more each session. You can find all of the apps on the official PUBG API app site.
Source: PUBG Official Site via Eurogamer
Related: Apps, News, PlayerUnknown's Battlegrounds, PUBG
https://www.mmogames.com/gamenews/pubg-report-app-killed-streamer/