The Year of the Pig is upon us, and so is the Overwatch Lunar New Year event. Technically starting on February 5th, 2019, the Year of the Pig features an earth element this year, and the lucky colors yellow, gray, brown, and gold. You can see these colors highlighted in many of the event skins Blizzard designed for the Year of the Pig event.
In this Play of the Fortnight, we're giving an Overwatch Lunar New Year Event guide, letting you know all the skins and achievement unlocks you need to get before the event ends.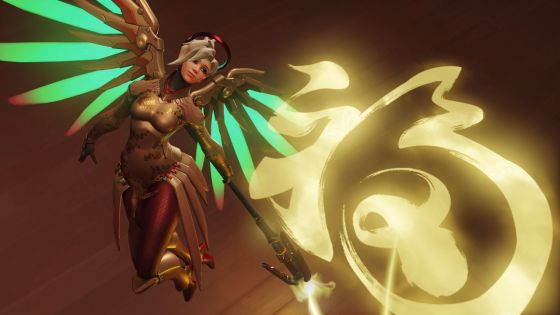 When is the Lunar New Year event?
The Overwatch Lunar New Year event already began on Thursday, January 24th. As usual, the event lasts three weeks (just over that, in fact) and will end on Monday, February 18th. This means the event will run throughout the real life Lunar New Year celebrations, which are on Tuesday, February 5th, and give players some additional time to get their unlocks.
Festive Capture the Flag
First appearing in the Year of the Rooster event, Capture the Flag has been a relatively popular Arcade game mode. This year, Blizzard has added a festive twist with the Capture the Flag: Busan map. Players can access this by simply queuing up from the Arcade menu for the duration of the event.
On top of that, Season 2 of Competitive Capture the Flag has started. Players can earn an icon, spray, and competitive points. They can also climb the ranks as in regular competitive.
Lunar New Year Achievements
Players can unlock two exclusive sprays through achievements in the Lunar New Year event. The first of these achievements, "Delivery Interruption", is unlocked when players kill an enemy flag carrier. Unsurprisingly, it awards a spray called "Interrupted Delivery." Capturing a flag earns the next achievement, "Captured", and awards a flag spray.
Unfortunately, there is a bug with these achievements. Blizzard accidentally added the achievements before the event began, and players who unlocked them in regular Capture the Flag weren't given any rewards. Now that the rewards have been added to the game, those players weren't given them retroactively. Blizzard will likely fix this soon, but there's been no update so far.
Exclusive Overwatch Lunar New Year event skins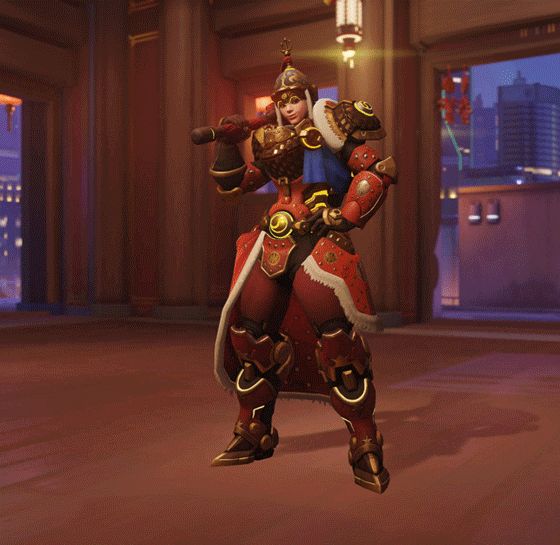 This year, Blizzard added six Legendary event skins. Five of these skins are named after famous Chinese generals: Huang Zhong (Hanzo), Lu Bu (Reaper), Guan Yu (Reinhardt), Zhang Fei (Torbjorn), and Zhuge Liang (Zenyatta). The sixth legendary skin is Hong Gildong (Tracer), named after a hero from a Korean novel, who has often been compared to Robin Hood for his exploits of stealing from the rich and corrupt.
Blizzard also added two new Epic skins: General Brigitte, and Sanye Orisa. Both of these are a lot more detailed than previous Epic skins have been, and it's lovely seeing Orisa getting some attention.
Additional Content
Of course, the skins aren't the only unlocks players can earn. We have two new emotes: one for Ana, and another for Soldier-76, the latter of which features a Rattle Drum. Players can also pick up six new victory poses, mostly featuring fireworks, but also Lucio's excellent Drumming pose, which pairs nicely with his Drumming highlight intro, also added in this event.
Blizzard also added ten new voicelines, for Ashe, Brigitte, Hanzo, Junkrat, McCree, Winston, and Wrecking Ball. And finally, there's six new non-achievement sprays to unlock. There's plenty to pick up in the Lunar New Year loot boxes over the next three weeks, so make sure not to miss out.
What's Up Next?
Blizzard doesn't host an Easter event for Overwatch, but we do have an event around the same time. Originally called Uprising, the Archives event is due to run around April. Archives, assuming it keeps its name, brings with it a PvE brawl that so far has changed slightly each year, and always highlights an event in the Overwatch roster's past.
There's a lot of heroes who haven't received any skins in a long time. D.Va is a great example: she's only had four event skins in total, spanning three events. Redditor Foxy_Jr posted a detailed recap of the event skins, which gives us a bit of an idea of which heroes may be selected for the upcoming events.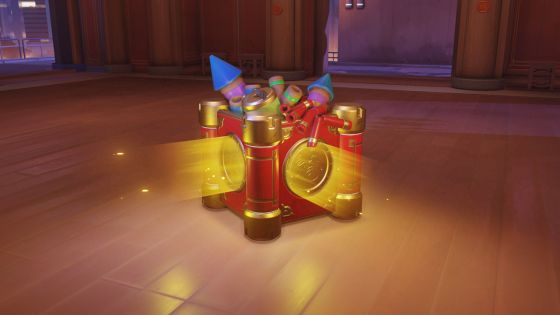 Closing Thoughts
The Overwatch Lunar New Year event is a beautiful nod to a real life seasonal celebration. The skins have been tied to historical or legendary figures. As has become tradition from Blizzard, a lot of care has been put into their designs.
Happy Lunar New Year, everyone!
Related: Blizzard Entertainment, Column, Event (In Game), First Person Shooter, FPS, Overwatch, Play of the Fortnight, Seasonal Event, Shooter
https://www.mmogames.com/gamearticles/play-of-the-fortnight-overwatch-lunar-new-year-event-guide/