In this week's MMO Money we've got a look at the September earnings for games, Mergers and Acquisitions in the gaming industry, investments, and more Tencent news. There were a few surprises this week and a few heartstoppers. Find all of that and more below.
Destiny 2 Gets Massive September Boost

Superdata has released their list of September earnings for games on PC, Console, and mobile. The big story from September was the success of Destiny 2's expansion Forsaken which shot it up to the number one spot on console. In fact, over 60% of all Destiny 2 monthly users bought the expansion. Also looking solely at console, Fortnite slipped down to 4th place when in the previous month it held the number one spot. There was a lot of moving around and swapping places in the chart in September thanks to expansions and in-game events. Mobile seems to be pretty stable though. Check out the full list below.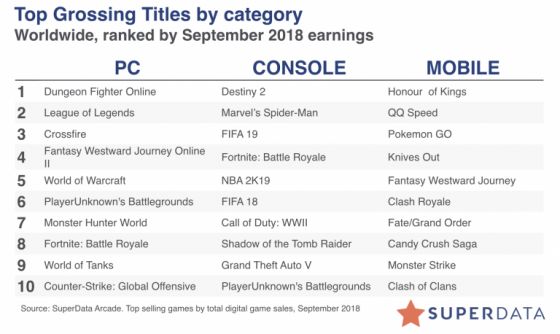 Also, part of that report was the news that digital spending on games is up this year from $912 million to $1.24 billion from the same month last year. This is fantastic news as we head into the holiday season. It also suggests that this holiday season will be stronger than last year's as well.
Source: Superdata
Wild West Online Studio Collapsed, But All is OK Now?
As it turns out, one of the reasons people stopped talking about Wild West Online for a few months there is because the studio stopped making the game. In fact, the studio collapsed altogether because they couldn't pay their employees. The game got a bit of a helping hand from Free Reign Entertainment who is now helping to develop the game. The new team only includes 3 from the original team so it sounds like they're going through a bit of a reboot. Another sign of that reboot is the introduction of a Battle Royale mode. The Battle Royale mode will be ready for testing sometime very soon, but will it be a success? We've seen many times where games have transitioned to follow the current trend and suffered for it. One such example is SOS, which never recovered from becoming a Battle Royale title and will be shutting down quite soon.
Source: Official Forums
Epic Raises $1.25 Billion from Investors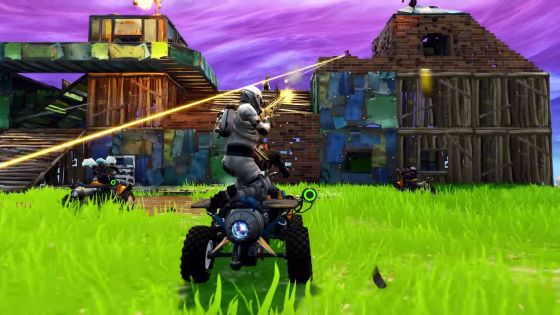 It's a good time to be Epic. They've got one of the most successful, most talked about games in the world at the moment and now they've got an additional 1.25 billion dollars to work with. The company is already estimated to be worth between 5 and 8 billion. Tencent and Disney are already invested in Epic and now KKR, ICONIQ Capital, Smash Ventures, aXiomatic, Vulcan Capital, Kleiner Perkins, and Lightspeed Venture Partners are joining in. Epic hasn't laid out any plans for all of that money yet but we're sure they're already working on that. CEO Tim Sweeney spoke about the fundraising saying, "We're excited to partner with the finest minds in the financial, sports, and entertainment communities. This reinforces Epic's position of leadership in real-time 3D technology, and accelerates our ability to improve the way people play, work, and interact with the world."
Source: Games Industry
Game Deals in 2018 Worth a Record $25 Billion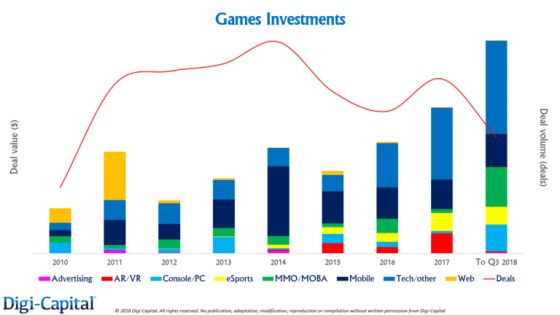 Digi-Capital has revealed that games deals have already gone past the $25 billion mark in the first 9 months of 2018, making this year a record year. However, previous experience suggests that we may be in for a sharp decline very soon. 2014 was a fantastic year for mergers and acquisitions but immediately following that we saw a sharp decline to the lowest numbers in a decade. MMOs and MOBAs in mobile and PC sectors saw significant investments despite the fact that these genres are in a decline. Much of it came from Tencent who has been quite busy diversifying and throwing money at companies.
While gaming mergers and acquisitions have hit a near record high just one single deal accounted for nearly half of the total. This was when South African based media group Naspers sold 2% of Tencent for more than $10 billion. That's a 60,000% return on its original investment.
Games IPOs seem to be following a three-year pattern since 2010. They will have a big year followed by two quiet ones and then repeat. 2017 was a record year with $17.1 billion but that number has dropped 90% to just $1.1 billion in 2018. That suggests that 2019 will also not be a very strong year for IPOs. Which raises questions about Green Man Gaming who has delayed their flotation twice now.
Source: Digi-Capital
Steam Reaches 90 Million Monthly Users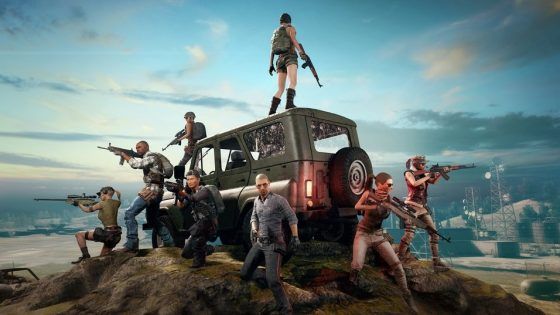 In just over a year the number of active monthly users of Steam has grown by 23 million according to a new report from Valve. In January they had a peak concurrent users at 18.5 million. This was at the height of PUBG's popularity. The growth comes, in part like so much of the industries growth this year…from China. In China, the number of people using Steam doubled from 15 million last year to 30 million this year.
What does all of this mean for Valve? More money of course. But, there may also be some complications with their expansion into China as the government cracks down harder every month on games, especially foreign ones.
Source: Steam
Now if you'll excuse me, I need to go find a time machine and invest in Tencent.
Related: Battle Royale, Business, Column, Destiny 2, Epic Games, Financials, Fortnite, Industry, MMO Money, MMORPG, News, Steam, SuperData, Tencent, Wild West Online
https://www.mmogames.com/gamearticles/mmo-money-september-earnings-for-games/