If we're being honest right out of the gate, the news this week isn't great. The industry is shrinking a bit as was previously predicted and of course, we have to talk about all the layoffs going on in the games industry. There is a little bit of good news in the middle there though so be sure to read the whole way through for your weekly look at the MMO games industry.
SuperData Reviews January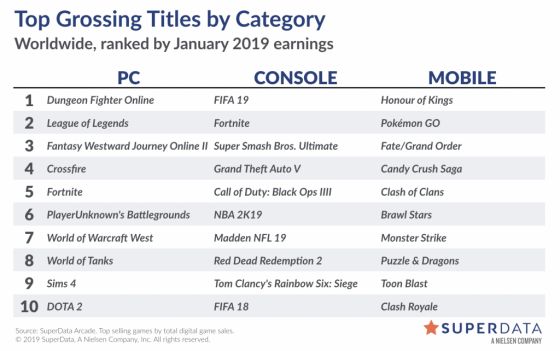 While we may be about to enter the third month of 2019 we are now getting our first look at the first month of the year for the business side of gaming and it isn't looking good so far. We started 2019 with a 6% drop in spending on all platforms year over year. Premium PC gaming had the biggest drop with a 29% decline.
Fortnite revenue dropped 48% month over month in January, but sales are still up year over year. Of course, a drop from December to January is somewhat unsurprising since December would have had the added benefit of the holiday season when people have more time off to play games.
Finally, a game we don't get to talk about much anymore these days, CSGO, was in the Superdata report. You may recall that the game went free to play in December. While this transition has been great at bringing in new players, 8% growth year over year in January, this hasn't translated into more revenue. Digital revenue is said to have fallen considerably year over year but exactly how much isn't stated.
Taking a look at the top 10 grossing titles what is immediately obvious is the drop for Fortnite both in PC and Console. In the December report, Fortnite was in third for PC and first for console. In just one month it has dropped 2 places on PC and one on console. In both cases it isn't being replaced by a newer game, FIFA 19 is the newest of the games above Fortnite and it came out in September. Meanwhile, what would have previously been considered Fortnite's biggest competition, PUBG held steady on PC and dropped off the chart entirely for console. It's also interesting to see DOTA 2 back on the list, having replaced Hearthstone (West) in the tenth position.
These charts will be very interesting to follow throughout 2019 to see if Fortnite continues to drop and if any newer game can climb its way to the top. The way things are looking right now we may well see those predictions of a shrinking gaming industry come to pass.
Source: Superdata
Tencent and NetEase Non-China Mobile Revenue Up 505%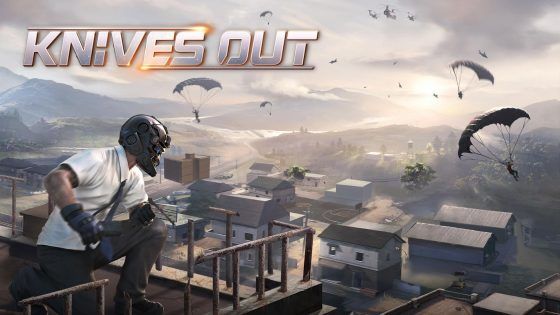 Right, so bear with us on this one. Tencent and NetEase, two big players in the mobile gaming world saw their combined revenue last year go up 505% outside of China. This is important because it went a long way to helping the two companies get through a period that lasted most of the year when no new games could be released in China. Much of this was driven by one game, NetEase's Knives Out, a game that has enjoyed massive popularity in Japan. Tencent's biggest hits were Arena of Valor and PUBG mobile. So, while things looked very concerning for Tencent in 2018 with the 9-month freeze on new games it would appear that the two companies weathered the storm pretty well. With that crisis behind us, we're sure that Tencent and NetEase will go on to have an amazing year this year. Assuming China keeps approving new games (more on this later).
All of this data came from a report from IHS Markit who also reported that mobile game revenue from Google Play and the App Store grew 5% year over year to $34.3 billion. While this growth is great, it is actually less than we've been seeing in previous years. The trouble with China certainly played a role in this but it wasn't the only factor. The mobile gaming market in established areas has generally reached maturity, as has the adoption of smartphones. Plus, we've seen a decline across the industry that has had an impact on every aspect of the gaming industry.
The report also goes in depth about Battle Royale games but that's something that is better suited for our Battle Royale column. So, expect to see more on this later in the week.
Source: IHS Markit
China Stops Game Approvals to Work Through Backlog…Maybe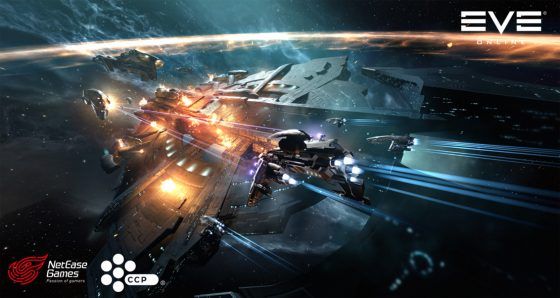 There have been reports that China has stopped accepting games to be approved while it works through a backlog of games awaiting approval, according to an anonymous gaming executive in China. However, according to statements made by NetEase's CEO William Ding, this may not actually be the case. During the Q4 2018 earnings call the following was said, "There were market news and rumors yesterday talking about alleged game suspensions. We would like to say that we do not see that. Some provisional and local regulators have modified the format of material submissions, but we do not interpret that as a shut-down of new game approvals."
So, has there been a stop? The only way to know for sure is to wait and see if any new games are released in China or not.
Source: Games Industry
The Layoffs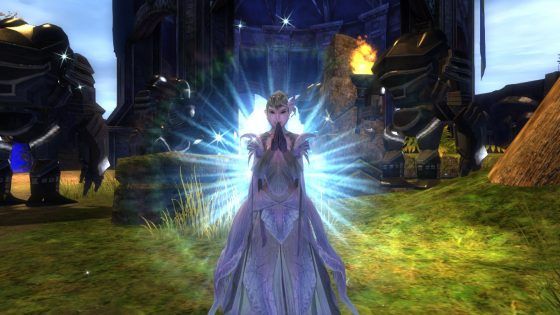 Finally, we need to talk about the layoffs. Blizzard, Activision, GOG, Razer, ArenaNet…just a few of the names to have big profile layoffs in the last few weeks. Many of these layoffs are happening because of canceled projects, but we here at MMOGames wonder if the projections of decline this year are also having an influence. Are these projects being canceled because it has been projected that the games industry will shrink this year and as a result companies are bracing for the impact? As a result, is that prediction, in fact, a self-fulfilling prophecy? Will the industry shrink because companies that are otherwise very healthy and performing well are holding back? Or is there something more going on behind the scenes that we haven't seen yet? I'm not saying a government conspiracy…but…something something Area 51, Flat Earth, Illuminati.
For all those who have lost their jobs recently, we hope you find yourself landing on your feet quickly and wish you all the best. We can't wait to see what projects you get attached to next, but if you do decide to leave the games industry it is completely understandable.
The post MMO Money: 6 Percent Drop in Spending Already This Year appeared first on MMOGames.com.