Most of what happens at the top end of MapleStory 2 is raiding, so it stands to reason that the Chaos Rising update has more of that. New Chaos Raids are now available in the game, along with the start of in-game Thanksgiving and a number of quality-of-life features.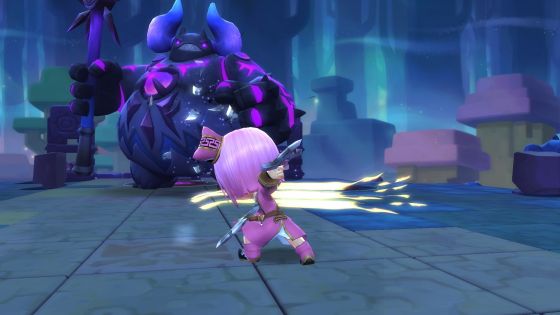 For the uninitiated, Chaos Raids are effectively boss fight only versions of regular dungeons with difficulty tuned for 10 player groups.
The Chaos Raids are coming in two parts; today's update kicks off the Chaos Raid versions of Shadow Altar and Moonlight Fortress, while the Ludibrium Clock Tower Chaos Raid will arrive on November 30th. Naturally, there are lots of rewards waiting for those who take on these new raids, including new weapons and Extreme, Rare and Panic tiers of gear.
Today's update also marks the start of Turkey Terror, the game's Thanksgiving celebration. Players are tasked with a daily quest to take down a giant wild turkey for rewards like a Dashing Turkey Mount. There will also be a Maple Harvest event where players can earn Maple Leaf coins to purchase unique items. Both events run between now and December 6.
Finally, a number of quality of life improvements have arrived with the update. Among these updates are a new wardrobe feature that lets players create cosmetic presets, additional quickslot pages, and the ability to add more items into the dismantling UI. A rundown of all the features is right here.
Our Thoughts
Yep, more raids. But really, that is one of the big chases for top end MapleStory 2 players at the moment, so extra tough boss fights for big shiny should be pretty entertaining for most. Personally speaking, I'm ready for some cute turkey things.
Source: press release
Related: MapleStory 2, MMO, MMORPG, News, Update
https://www.mmogames.com/gamenews/maplestory-2-chaos-rising-brings-new-raids-thanksgiving/