Anthem is a game that has been utterly shrouded in mystery. From its development cycle to what is planned for a post-launch release, Bioware Edmonton's newest creation has been a complete enigma up until its first demo several weeks ago. Even looking at its official social media pages, its hard to discern what the final form of Anthem is truly intended to be, with little focus on showcasing the game's systems. Even now, after the first leg of its public demo, the discussion surrounding Anthem is more based on the failings of the demo than what the game actually is.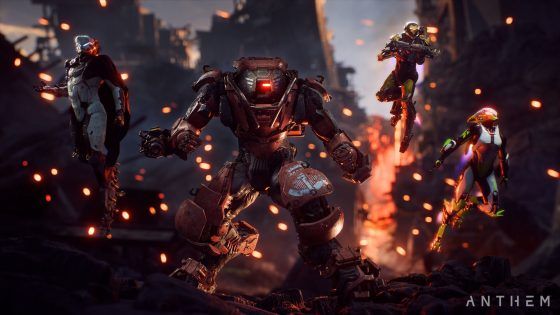 Developed by Bioware and published by Electronic Arts, Anthem is an always-online MMO-lite shooter in a similar vein of Destiny 2 and features a persistent open world with drop-in-drop-out co-op gameplay. While there are certainly comparisons to be drawn between Bungie's MMO shooter and the newest addition to the Bioware catalog, each game exists in its own circle of influence and certainly stands on its own.
On the planet of Bastion, Elder Gods once shaped the world with great machines and a force known as the Anthem of Creation. A wild and untamed elemental force, the Anthem and its melodies could create life from inanimate objects while shaping the world at its whim. Long before the rise of humanity, these gods left, leaving their relics and instruments behind on a volatile world. Now these powers threaten the very land of Bastion, and heroes have risen to meet them. Known as Freelancers, these contract-soldiers take flight in their Javelin mech suits to defend humanity from threats based on the Anthem, and those that encroach from within the very ranks of humanity itself.
This, in my opinion, is one of the more interesting and under-utilized narrative conflicts that we just haven't seen in western game development over the last decade. Too often do we see heroes backed against a wall by an unseen or omnipotent enemy force, when sometimes the best opposition can come from nature itself. Anthem certainly has that on full display at its onset with the melodies of Bastion ripping horrific monsters into being in an instant or glassing a plain with savage licks of fire. However, this quickly turns into the introduction of a big-bad villain who attempts to weaponize the Anthem and things quickly begin to hit a tired story beat.
The narrative of Anthem is, oddly enough, one of its weaker points. Despite being known for their fantastic storytelling and wonderful narrative construction, Bioware's strongest skill set firmly falls flat in this department, at least within the first few hours. While the introductory missions are incredibly well written and serve to inject action into the world of Bastion there is a two year time-jump immediately after this plot-line, cutting any emotional attachment to the characters we just struggled with. From there things merely chug along in Anthem, hitting story beats until the introduction of the game's main villain.
What's slightly more disappointing, however, is how well written the game's wide variety of characters truly are. From your co-pilot Owen, who's neurotically charming to a fault, to one of the Sentinels who is standoffish and uncomfortable but warms up to your character over time. Each character has a wonderful amount of time and energy put into them, with their own development arcs and unique quirks. There is a living, breathing world in Anthem, but it simply feels as if the, "why," in existing in it doesn't build until later in the game.
Despite the lack of why, the "How do you play in Anthem," is incredibly fun and well worth the purchase price of the game. Most of your play time will be spent inside a Javelin, one of the Freelancer's exo-suits. Each one is unique in its design and playstyle, fitting a different role in a traditional RPG role. Each has six unlockable equipment slots, as well as a host of unique interchangeable abilities.
The first players will have access to is the Ranger, a medium armor class Javelin. Focusing heavily on gunplay, the Ranger features abilities that veterans of Halo or Gears of War may find familiar. Starting with several artillery abilities such as grenades and missiles, this particular suit is the best for those unfamiliar with RPGs or Anthem in general; much like Soldier 76 of Overwatch, the Ranger is a great introduction for FPS players and the most versatile of each javelin. After completing the tutorial players will be able to select one of the other remaining Javelins, unlocking the others as they level up their pilot.
The Colossus is the de-facto tank of the Freelancer fleet, originally a large construction suit intended to protect workers from hazardous materials. Now the pilots of Fort Tarsis equip them as mobile siege weapons, using their bulk as an advantage in combat. Each Colossus comes equipped with a large ballistic shield, which compensates for their lack of standard energy shield. Unable to wield pistols or sub-machine gun weapons, this Javelin instead can equip heavy weapons such as rocket launchers and gatling guns. This suit is a walking siege weapon, equipped to maximize damage and come up with blunt force solutions to otherwise complicated problems.
The Interceptor is the Javelin for those looking to unlock sheer speed, being the most nimble and deadly melee combatant on the battlefield. While it boasts smaller shields than any other suit available, it recharges its shield through constant moment and speed. Standing still for the Interceptor is not the way to play. Specializing in pure damage and one-on-one combat, the Interceptor cleaves through the battlefield at lightning speed.
The final suit, and the one I spent the most playtime with, is the Storm. Wielding the elemental fury of Bastion, Storm is the casting powerhouse of the Freelancers. Boasting wide-spread area spells and effects, gunplay is used as a back-up for the destructive powers of the Anthem. Whereas other Javelins do best flitting in and out of melee combat, the Storm is best suited to hover at a distance and unleashing its fury upon the hapless enemies of the Freelancers.
Any time you step outside of the safety of Fort Tarsis, the main hub of Anthem, you'll be loaded into one of your Javelins. Each comes loaded with several firearms be they rifles, submachine guns, pistols, shotguns or heavy ordnance. Each also has a jump-booster, a system that players can utilize to hover, glide or fly over Bastion. These jets can be activated at any time, indoors or out, but can only run for a certain amount of time; as with any flame-propulsion system it will eventually overheat.
Players can instead maximize their flight time by soaring beneath or over bodies of water, using gravity to assist their flight (such as tilting downwards or even straight down), or by flying in water-related weather patterns. This is one of Anthem's more rewarding systems, as it simply feels good to fly and pull off various maneuvers with each Javelin especially when you can manipulate your flight pattern and stay aloft indefinitely. Each suit handles a little differently from each other based on its armor class; the beefy Colossus is sluggish and takes artillery on directly while the Interceptor rolls in and out of combat and flies as daintily as a bird.
While customization is limited when it comes to the player-character (with only one voice per sex and roughly 24 pre-rendered faces to choose from), Javelin customization is incredibly wild and varied. While each Javelin not only has replaceable parts and armaments, attainable through in-game vendors and currencies, every single color and texture of the Javelin can be customized or altered to your specifics. Leather under-linings can be changed to an all-metal super suit, capes and cloaks can be altered to be leather of any variety. Even the loadouts for your mechs can be utterly unique, turning a tanky Colossus into a long-ranged assassin or a Storm into a front-line psycher.
When it comes to the gameplay of Anthem everything just feels right. Gunplay is tight and fun to engage with, flight feels great, and even simply exploring the world is fun. However, this is where the cracks in Anthem's designs really begin to show.
Like Dragon Age: Inquisition, Anthem moves through its narrative beats and story-progression via a mission system. While this does piece out the story and lore into palatable chunks, it also makes exploring Bastion incredibly jarring. After the completion of each mission the player will be thrust out of their Javelin and into Fort Tarsis to manage their Javelin and pick up quests. While this allows players progressing quickly to optimize their loadout this does not negate the issue for players enjoying the free-roaming aspects of Bastion. If you even want to change your firearms you will have to return Fort Tarsis, enter your loadout, adjust your guns and sit through two more loading screens to return to that open world.
It's also clear that hovering was not entirely fleshed out in regard to combat; while the Storm is built around the concept of flying high and avoiding damage, every other Javelin can also do just that as well, minimizing the threat of any enemy encounter especially in group scenarios. This reaches a paramount point towards Anthem's endgame, which players of more recent MMO-Lite franchises may find familiar.
As the Freelancers rebuild their forces and begin to wage war on some of the deadliest parts of the Anthem, players will earn the ability to fight against Strongholds. These multiplayer encounters revolve around silencing a dangerous relic, fighting off waves of often negligible enemies and fighting off a large boss-version of those enemies, which feels again like a large bullet sponge. As bosses have no set loot table, rewards can range from low-tier uncommon items, which I received during my time at EA Redwood, to blueprints. These blueprints can be used to create Masterwork weapons, requiring players to use Anthem's crafting system to target and develop specific end-game pieces they want, making the end-game less a targeted experience and more of a wide-sprawling attempt to find exactly what you need blindly.
There also doesn't appear to be much direction in terms of what happens after the story campaign. While there have been promises from both Electronic Arts and Bioware that there will be additional content beyond the end-game, and a confirmation from producer Scylla Costa that Bioware Houston will take over the live-service aspects of Anthem, there's no direction into what that's going to be. For now, running Stronghold's appears to be the entire post end-game content, meaning that this live service will be relatively deceased after players hit the end of this RPG.
So that leaves us with one major question: where does this leave Anthem? Frankly, Anthem is an incredibly fun game when you don't look too far past the veneer and finish. While player agency isn't as prevalent as in other Bioware games such as Star Wars: The Old Republic, neither is Anthem truly intended as a full-scale MMO nor a full-level RPG. Instead this game melds genres far more successfully than other more recent entries in the AAA sphere.
However, in comparison to those other entries, there are also quite a few gaps simply due to the setting of Bastion and the legacy of Bioware; players are used to complete agency in the designs of their characters, instead of the armor they wield. Other entries keep this customization out in the world instead of relying on older system concepts to force player evolution, allowing them to make basic adjustments on the fly instead of resetting their world to tweak a firearm. Anthem has a lot of heart, love and ingenuity baked into its very artistic essence, but the defects do stand out otherwise; some for the cracks in the façade, and others simply because Bioware has dominated this space for years.
For those interested, Anthem launches into the world on February 22nd, 2018
Disclaimer: Writer was flown out to EA's Redwood, California Campus to preview Anthem at no cost.
Related: Anthem, Bioware, Electronic Arts, Hands On, MMO, Online Co-Op, Preview, Shooter
https://www.mmogames.com/gamearticles/hands-on-with-anthem/