E3 2019: PC Gaming Show Press Conference
MMO Games –
The PC Gaming Show at E3 2019 is now done and from the looks of it, 4v4 and small team games are the in thing right now. We also got a glimpse of an all-new survival MMO and Warframe's next expansion. Below you'll find everything multiplayer that was revealed at the PC Gaming Show this year.
Midnight Ghost Hunt
If Ghostbusters were a multiplayer game it would be Midnight Ghost Hunt, a 4v4 game where you're either a ghost or you're a hunter. For the first 4 minutes of a match hunters are going after ghosts, defeating them as they enter objects to hide. But the ghosts aren't going down without a fight. This is a prop hunter game where the props fight back. If any ghosts survive to the 4-minute mark in this giant game of hide and seek then the tides of battle turn and the ghosts get the upper hand. All of the ghosts, even those who have been defeated come back more powerful than before. These spirits aren't happy and the hunters become the hunted.
Conan Chop Chop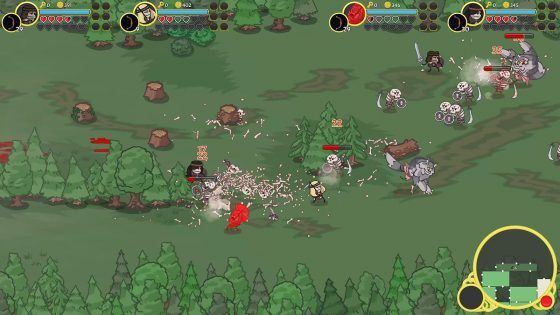 A stick figure Conan game, yes, you have heard of that before. Funcom announced Conan Chop Chop as an April Fools Day joke, but it turns out that it wasn't a joke at all. The game is being developed by Mighty Kingdom and published by Funcom. It's a roguelike hack-and-slash game with 1-4 players in co-op. Conan Chop Chop, the game you never knew you needed until now will be launching on September 3rd for PC, Xbox One, Playstation 4, and Nintendo Switch.
Last Oasis
A nomadic survival MMO that is set in a future post-apocalyptic world where the world has stopped turning and there is only a wasteland of darkness or light. Only a small strip in between is habitable. The remnants of humanity have built a large walking city. The game is being made by Donkey Crew, an indie studio that started as a passionate group of Mount & Blade modders. Last Oasis is set to enter Steam Early Access on September 3rd.
Vermintide 2 Versus
4v4 is coming to Vermintide 2 turning you into the Skaven and other enemies from Vermintide 2. You can sign up to take part in the beta right now on the official site. "The player has always been the hero of the game, but in the Versus mode, players will now be able to play as the enemy factions." says Martin Wahlund, CEO Fatshark. "Versus is a competitive game mode where two separate teams of four players take turns playing as the enemies and heroes."The next expansion for the game is also coming this August.
Warframe
We got our first trailer for Warframe's upcoming expansion Empyrean ahead of the full reveal of the expansion at TennoCon on July 6th. This expansion was previously called Railjack and had a whole lot of hype in the community.
Related: April Fools Day, Conan Chop Chop, E3 2019, Funcom, Last Oasis, Midnight Ghost Hunt, PC Gaming, Trailer, Vermintide 2, Warfame
Read the original article