Dota Underlords – A Roll of the Dice
MMO Games –
I hope that the future will prove me wrong but we may be on the verge of the birth of another gaming trend: Auto Chess games. Dota Underlords and League of Legends' Teamfight Tactics are the hypothetical precursors of the genre, but this style of gameplay harkens back to the origins of mobile games. It's heavily RNG-based, with luck playing a major part in your experience, while your effect in a match is akin to rolling a dice as the battles unfold automatically.
At this stage, Dota Underlords is a conundrum of massive proportions. It's not that different from the dreaded hero collector games that you find on mobile, yet it gets praise for a depth that simply isn't there. It works as a harmless game mode for Dota 2; as its own standalone game, it's shallow and unrewarding.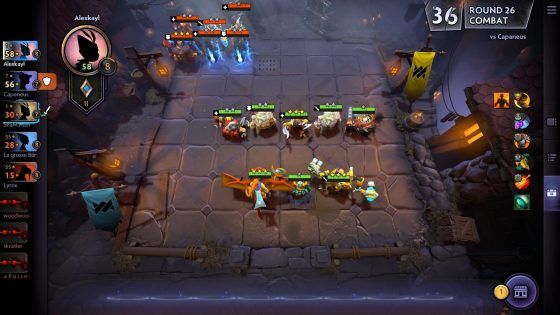 RNG: The Game
Currently in Early Access, Dota Underlords feels strangely rudimentary. Valve virtually rushed it to the store in an attempt to thwart Riot Games' Teamfight Tactics from taking the spotlight. The clueless tutorial is proof of this, teaching absolutely nothing substantial about the mechanics of the game with round after round of generic and useless info. Only after googling some tips I was able to understand what was needed to level up a hero.
Hint: you need to get three copies of the same hero to merge into a two-star hero and three two-star heroes to create a powerful three-star hero. It's not about combat experience (kills, matches, etc.) as I initially expected it to be.
Dota Underlords isn't a game that you can play to kill some minutes since a successful match can take up to an hour. You're not facing a single opponent; instead you participate in an eight-player tournament where you face one rival at a time. A defeat will take some of your health, with each participant being eliminated as their health drops to zero.
Matches have the problem of being mostly decided by lady luck, as you take the heroes that you get from the shop. If you're lucky enough to get a few heroes to fuse into two-star heroes during the early rounds you may have a shot at the top spots. Otherwise you're likely to find yourself in a situation where it's impossible to catch up with the other players. Spending gold to reroll the shop with no worthwhile upgrade showing up is a guarantee that the goddess of RNG isn't by your side. No matter the heroes that you choose or their board placement, Dota Underlords is mostly about hero level with skill playing a lesser role.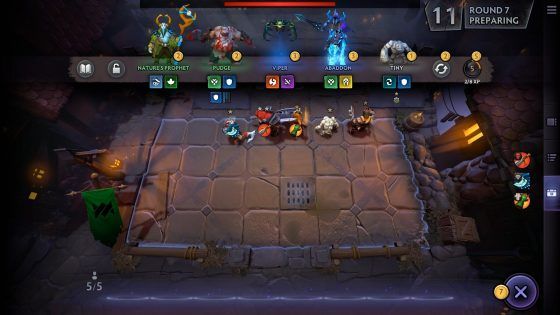 You can also spend gold to upgrade your overall player level with each stage granting an additional hero spot on the board. This is essential as to not fall behind but I always make leveling up my heroes the top priority. Having a full team of one-star heroes ultimately amounts to nothing much but it's all about balance… and luck.
There are other ways you can affect the performance of your heroes, thanks to loot rounds. During the first three match rounds you will face AI creeps. If you win you get to pick one item from a pool of three, and if you lose stop playing immediately because you're bad beyond belief… I mean, the game chooses one item for you. For example, some items can be used with one hero while others have overall boosts that affect a specific class. Further loot rounds happen at round 10, 15, 20 and so on.
Alliances need to be taken into consideration as well. You must pay attention to the icons under each hero, as they represent their faction: Assassin, Druid, Mage, Human and many more. This is a system where having multiple heroes from a single faction on the board will reward you with some boosts.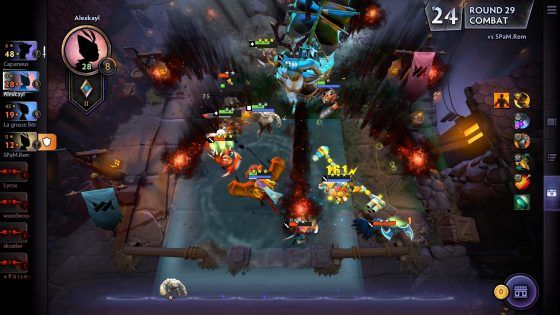 Am I a Player or Am I Being Played?
At the end of the day, Dota Underlords can be incredibly infuriating. When you win it feels unrewarding as it's mostly down to luck, even if you're unwilling to admit it during your first victories. When you lose it's mostly due to a case of bad luck. Leveling up heroes, using items and creating alliances… everyone is doing it as well. You either have good high-level heroes, and hero balance is a serious issue right now, or your odds of winning are seriously affected.
If this was proper chess instead of Auto Chess, you know just like the classic Battle Chess series, each match would surely have several layers of strategy to it. As it stands it's just a frenzied rush of heroes while tactical prowess sits at the sidelines, depressingly eating popcorn and shaking its head in disbelief.
Monetization is yet to rear its ugly face but you should expect an unhealthy dose of hero skins. This should add to the mess that happens on the board as the heroes aren't that easy to recognize to begin with. That takes me to another worrisome issue, the clunky UI. It feels unintuitive and ugly, certainly not up to the standards that you would expect from a company such as Valve. Eventually you'll grow used to it but that is not the same as appreciating its design. Teamfight Tactics' UI looks extremely clean and polished in comparison while Dota Underlords' interface seemingly designed without flair and with mobile devices in mind. This game is available for PC and mobile devices but that's never an excuse for lackluster design.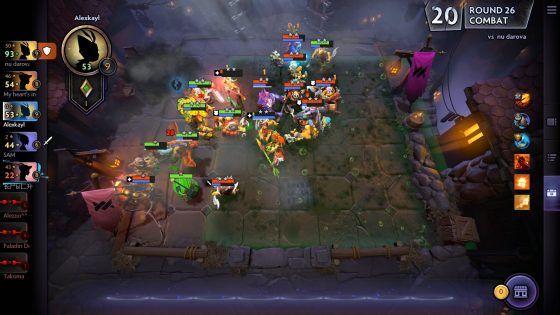 When you perform well Dota Underlords grabs you and you feel tempted to keep playing, raising your ranking in the hopes that you'll become skilled enough to turn into a respected player.  By skilled I mean having a broad knowledge of each hero's strengths and a four leaf clover in your pocket. Dota Underlords has obvious eSports ambitions and additional features may eventually turn it into a richer game, or a proper game, one where your actions have real repercussions.
Right now Dota Underlords feels more like a weird emerging trend that is more frustrating than interesting. A game where your role is more of a spectator rather than that of a player. It's akin to rolling the dice and hoping that you get the desired results. In my book this doesn't count as a proper game, let alone spawn an entire gaming genre. Sure, it's addictive but in a very exasperating and punishing way. I would never trade the challenging depth of Minion Masters for any Auto Chess game.
And boy, that shop bell really gets on my nerves.
Related: Auto-Chess, Dota 2, Dota Underlords, Preview, Steam Early Access, Valve
Read the original article