Bless Online, also known simply as Bless, is a brilliant epic fantasy MMORPG from Neowiz which centers on an ongoing war between two warring factions. The vast and incredibly detailed world of BLESS is painstakingly brought to life by pushing the boundaries of what's possible through the award-winning Unreal Engine 3 graphics technology. Soak in the sights and completely immerse yourself in this living, breathing world full of rich lore and history. Create your character and choose from one of nearly 10 races and 8 classes, and set off for adventure and excitement! To help new adventurers get off on the right foot, Bless and MMOGames have teamed up to bring you this super helpful giveaway. Enter the Bless Online: Novice Pack Steam DLC Giveaway now for your chance at a key that unlocks the Bless Online: Novice Pack DLC for free on Steam, a 19.99 USD / EUR value!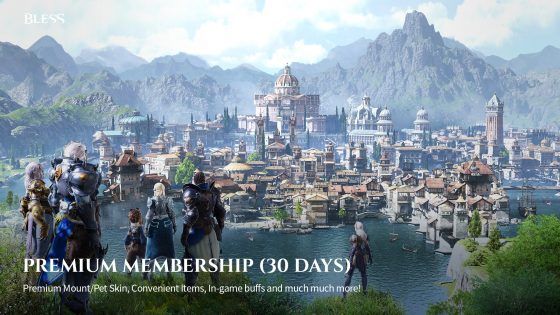 What You Get From The Bless Online: Novice Pack Steam DLC Giveaway
A free unlock of the Bless Online: Novice Pack containing the following items:

Premium Membership (30 Days) – A 30 Day Premium Membership that offers special benefits such as premium mount/pet skins, convenience items, and in-game buffs.
Skill Reset Scroll (x1) – The 'Skill Reset Scroll' resets all gems and skill growth points, allowing players to make new choices about their tactics.
Gender & Appearance Change Item (1 day) – Change your character's appearance any way you like with the Gender & Appearance Change Item!
How To Redeem Your Bless Online: Novice Pack Steam DLC Giveaway Key
Launch the Steam client software and log into your Steam account. If you do not have a Steam client, go here to install Steam and create an account.
Click the 

Games Menu

.
Choose 

Activate a Product on Steam.

Follow the onscreen instructions to complete the process.
Players can claim the items in the Account Mail in-game.
Enter Via Gleam
Sign in with a selection of options within the Gleam widgets at the end of this post and complete one or more entries to enter. You can select all of them or just one, it's entirely up to you, though the more you choose, the more chances you have to win! This round of the giveaway will end on Monday, November 12, 2018. We will contact the winners by email, so be sure to check your email often! If you have any questions, please contact us.
Bless Online: Novice Pack Steam DLC Giveaway
Related: Bless Online, DLC, Game Keys, Giveaway, Steam
https://www.mmogames.com/gamearticles/bless-online-novice-pack-steam-dlc-giveaway/